'Are you sure you're ok?'
The man at the table next to me is trying to enjoy his dinner, but he looks a little concerned. Maybe it has something to do with my coughing. Or it might be the fact that I've been staring at my pint for the last 30 minutes. When I try to give him my most convincing thumbs-up, I almost knock over said pint. I don't really feel like explaining myself, so I just tell him I'm fine. It's pretty clear that he's not buying it. Luckily my lift home arrives soon and I even manage to finish my drink – something I'd definitely regret later.
I guess I could've told the man a story about the run that I'd just done, but he probably just would've looked even more concerned. My run had started at midnight the night before, at the wedge tomb that you'll find on the Kerry Way in between Waterville and Caherdaniel. The plan: to follow the route of the Ancient Warriors Trail and hopefully finish my run before dark at Kate Kearney's Cottage. It's not a race, but a personal challenge: '107 km of ancient trails and mountains, where pagan and pilgrim cultures collide'. With about 5000 m of climbing, this definitely is a proper challenge – one I'd been looking forward to, as it would mean spending hours and hours out on the trails in my favourite county (sorry, Cork).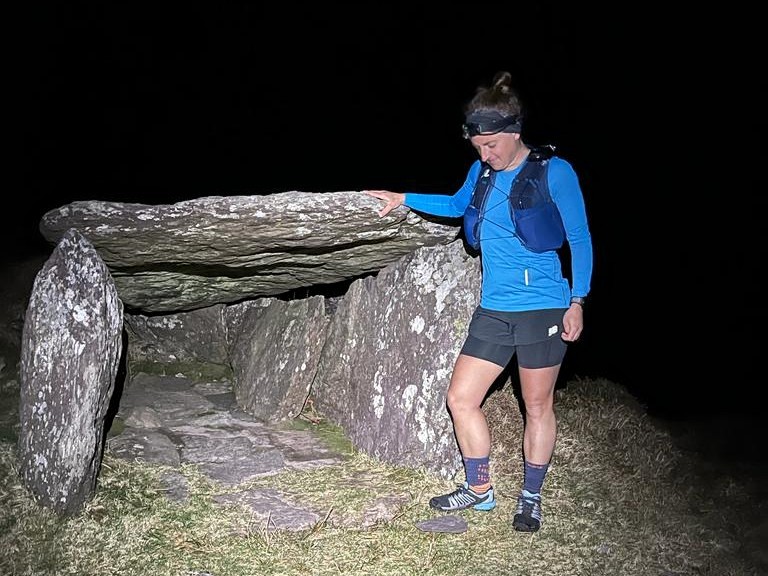 A couple of friends/victims were kind enough to help me with my attempt, and there's no better man to do some of the night running and crewing than Simon Kelly. We were at the start point early, so we had enough time to check that the trackers were working, take some photos and crack some jokes. Off I went at exactly 0:00.
Simon would run with me from Waterville to Foilmore, a section that I'd dreaded a little during the Kerry Way Ultra in 2021 and that I'd rather do in daylight. There's nothing wrong with the trails or the scenery, it's just hard to gain any momentum and it seems like there's always one more hill to climb. This time I felt like we were moving well, though. I arrived in Foilmore a couple of minutes ahead of schedule and although I'd been nauseous from the start, I felt strong and I was enjoying myself. After a quick stop I continued on my own. I'd see Simon again in Kells.
The next leg was pretty straightforward. The only thing I almost forgot was that I needed to cross a field first. A major challenge, as it turned out. As is often the case in Kerry, you just need to look for a stile. But even though climbing stiles is all I do these days, I just couldn't find the stupid thing. What should've been a straight line turned into something much more interesting. Eventually, I did find my way out of the field. I was just relieved there weren't any cows chasing me this time.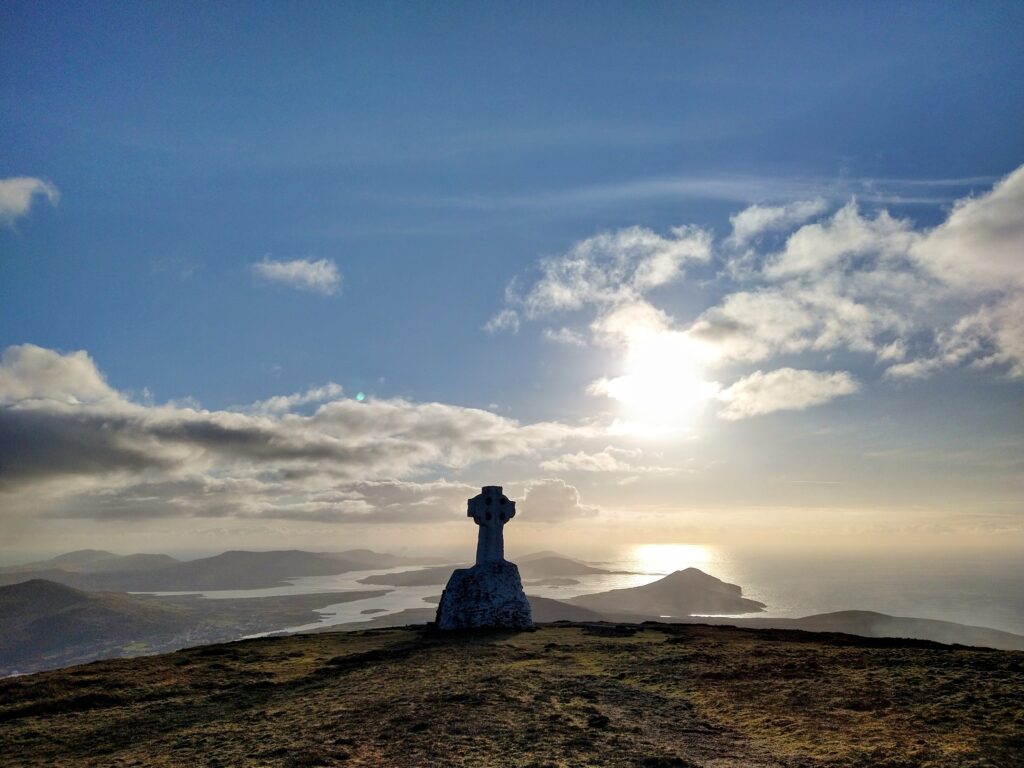 The kilometres on the road flew by and before I knew it I was climbing Knocknadobar. I'd been up this mountain a couple of times before and I knew the views would be amazing. When I was planning my Ancient Warriors Trail, I had this vision of watching the sunrise here and taking some incredible photos. That didn't happen; it was too early and I wasn't taking any photos anyway. All I did as I reached the cross, was check my watch and realise that even with my mediocre descending skills I should still be in Kells earlier than expected.
When I arrived at Kells Beach, I felt a little guilty seeing two people who clearly hadn't had a full night's sleep because of this thing I was doing. At the same time I was just glad that they were there and glad I hadn't made them wait longer than necessary. I was in good spirits anyway as my stomach had finally started cooperating after seven hours of running. The sun was up now and Michael would take over crewing duties. I didn't waste too much time because I knew I had another hill to climb before things would get a bit easier again.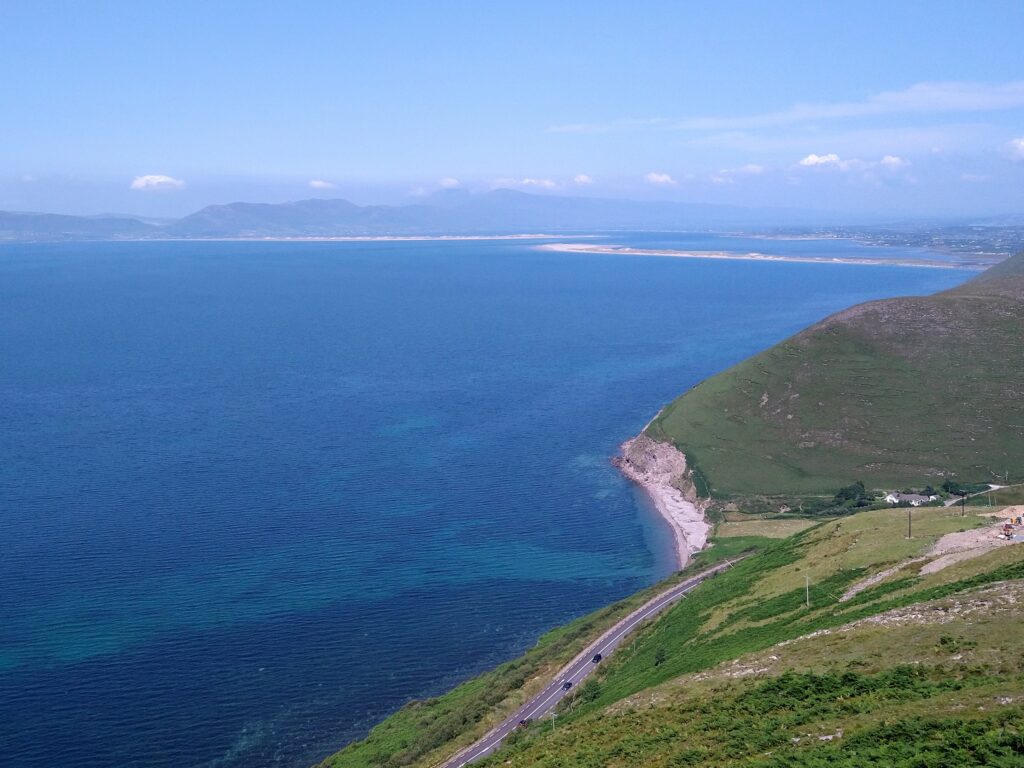 That hill, though. Drung Hill. Apparently people would gather here in ancient times – but not anymore, and I can see why. I had done a recce a couple of weeks prior and was surprised by how much this relatively small hill took out of me. It's just straight up and straight down through rocks and heather. Last time I was here, I was also battling the wind. This time the weather was much better, but I was still happy enough to quickly touch the cairn and head downhill to rejoin the Kerry Way. I could just follow the Mountain Stage trail now and enjoy some faster miles towards Glenbeigh.
The next section from Glenbeigh to Glencar is nice and short, and even though my legs were not as fresh anymore I was still delighted to be out on these trails on a stunning day. Coming down on the other side of Windy Gap was a bit of a reality check, though. I could see the Reeks looming up ahead; things had been going well so far, but there were still some mountains left to climb.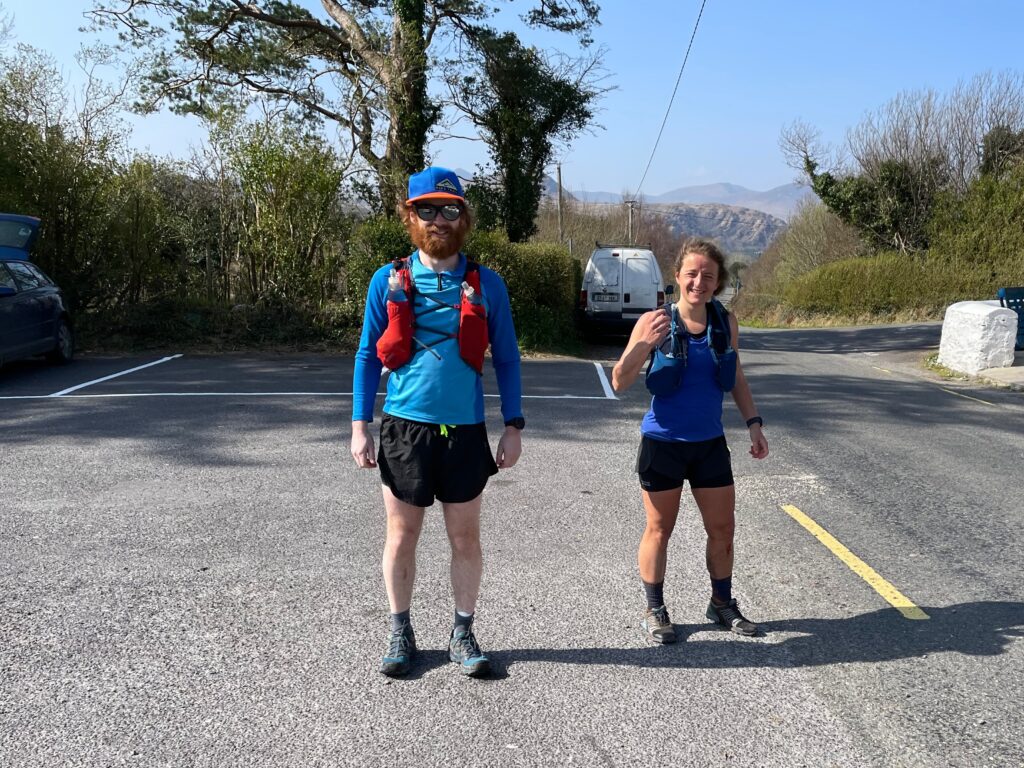 Eileen, race director of the KWU, had kindly offered to help as well so it was great to meet both her and Michael at the Climber's Inn in Glencar. Eileen would meet us again at the finish, Michael would join me for the final leg across the Reeks.
Ah, the Reeks… The week before, we had tried to do a trial run of this part of the route but strong winds had prevented us from even finishing the first climb. That's why I'd come up with a plan B and C for this section. Thankfully conditions were near perfect this weekend, so we could follow the official route. What wasn't perfect, was the fact that I wasn't handling the change of pace very well; I knew this part was going to be the steepest, the most technical and the slowest, but I still felt like I should be moving faster.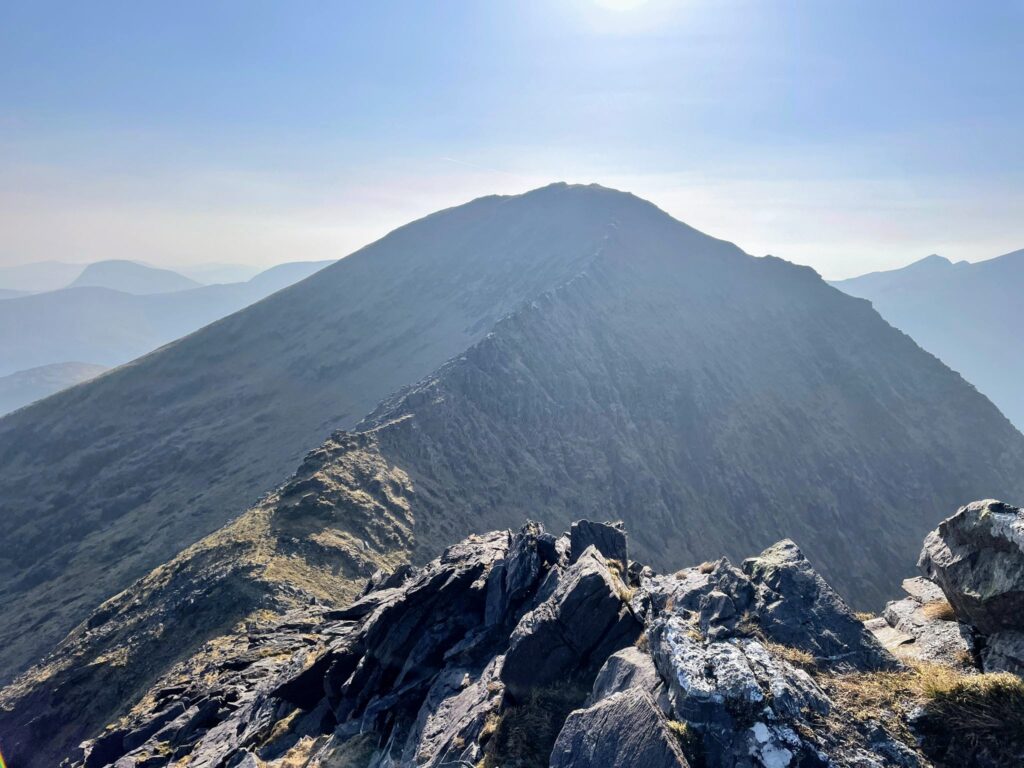 While I was getting a little annoyed with myself, I was also starting to have some trouble with my lungs. In hindsight, I think I had just been pushing pretty hard all night/day; our bodies have their ways of telling us when enough is enough. I took a 30 second break and came to the conclusion that that wasn't helping. It was then pointed out to me that I might want to take a couple of minutes instead of seconds… By taking a little more time I did manage to catch my breath somewhat, but I would keep coughing for the rest of the run.
Even though I didn't have to pay a lot of attention to navigation anymore, the ridges of the Reeks wouldn't allow anyone to just zone out. I tried to stay alert, to keep plodding on and to keep eating. I hadn't been able to eat any jellies so far so I had left them all in the car earlier that day, but of course at this point it was all I could think of. Jellies. And pizza.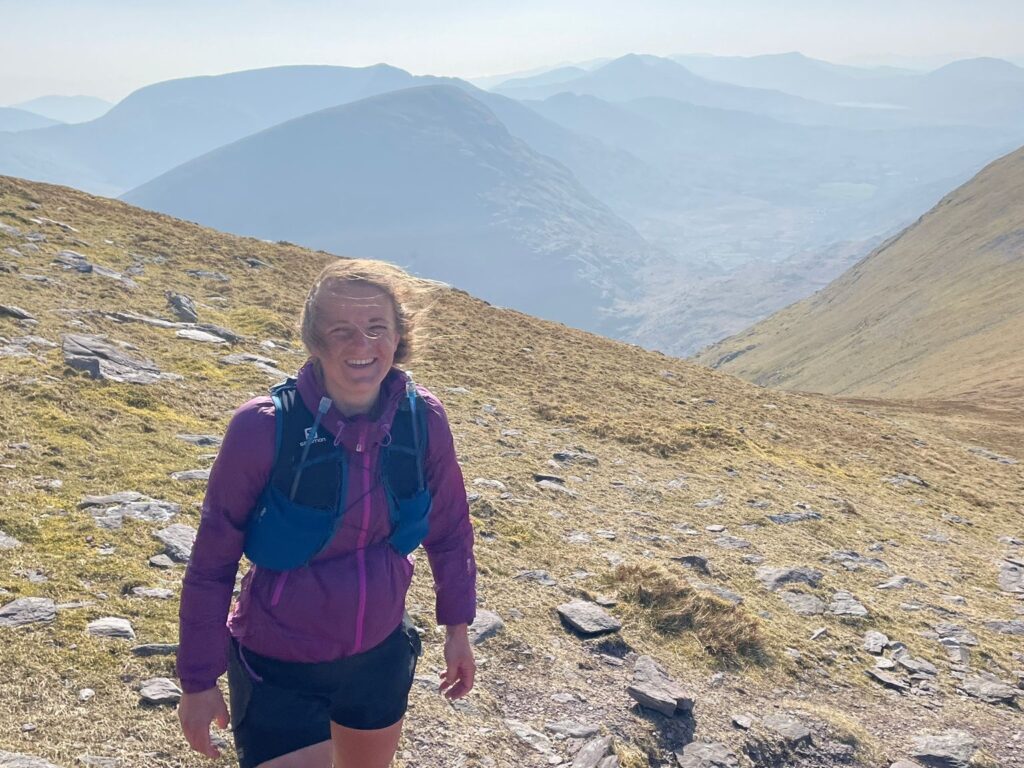 Cravings aside, we kept moving and ticking off more and more peaks. There was still plenty of daylight left so there was no need to rush, but we weren't hanging around either. I did my best to believe my ever optimistic pacer when he kept saying the next bit 'wouldn't be that hard'. As we reached the bog after Cnoc an Bhráca, we could actually start running again (even though someone almost got swallowed up there, I won't say who). After the short climb to the top of the final hill, Strickeen, all that was left was to make our way down to the Gap of Dunloe.
It took me 18 hours, 23 minutes and 16 seconds to reach Kate Kearney's Cottage. A journey that taught me a couple of lessons, which I might share in a separate post. One thing I will say is that I wouldn't recommend downing a pint after a run like that, just to prove to some stranger that you're absolutely fine.
Huge thanks to my crew for helping me set a new record on this route and for sharing this experience with me. Another unassuming finish line, but one I won't forget anytime soon!