There's something about 3am alarms that both excites and terrifies me. It usually means there's something special about to happen, some new memories about to be made. But at the same time it means sacrificing sleep and accepting that things are about to get uncomfortable. I know I'll love it, but getting started is often not my strong suit.
In this particular instance, my 3am alarm meant checking the weather forecast one more time. There had been some pretty serious storms that week and there had been warnings that more bad weather was on its way. The forecast looked fine though. Fine, being: just 3 to 4 hours of rain and wind before it'd clear up. We might even get some sunshine. Since the plan for this day was to run the full Sheep's Head Way, I was sure we'd be out long enough to get a bit of everything.
When I mentioned my intention of doing this 95km route to some of my running friends two months earlier, most of them just said 'cool', 'good luck' or 'have fun'. One responded slightly differently: 'Sounds like a plan. Let's do it.' Most of my non-race ultras so far had been solo adventures, especially during the lockdowns over the past couple of years, but I was more than happy to have some company this time. That's how two runners showed up in Bantry that Saturday morning. West Cork, mid-February, 5am, pouring rain. Sounds like a plan. Let's do it.
The weather forecast was spot on: the first hours were absolutely miserable with strong winds and plenty of rain. The ground was already soaked after the recent storms, which meant the going was slow and tough. There are usually two ways to deal with conditions like this: channel your inner cave (wo)man and power through, or start sulking and feeling sorry for yourself. I did a half-hearted attempt at combining the two, trudging on whilst questioning why I was doing this. There was no point in panicking though – it'd obviously be nicer to start a run like this on a high, but I know by now that the highs will always turn into lows and vice versa. This time I'd just need to be a little more patient and wait for this initial low to pass.
When the sun came up, the rain cleared slowly but surely and it seemed like some of the toughest terrain was already behind us. As I switched off my headtorch, I felt like I could finally start enjoying myself. It was way too early to start counting down the miles, but as we were making our way towards the lighthouse (40km in) we were also getting closer to the towns where we could pick up some extra food and drink: Kilcrohane (54km) and Durrus (74km). As always, I spent a good chunk of time fantasising about what I was going to eat. A sandwich, some crisps, pizza maybe? When we arrived in Kilcrohane, though, the shop was closed.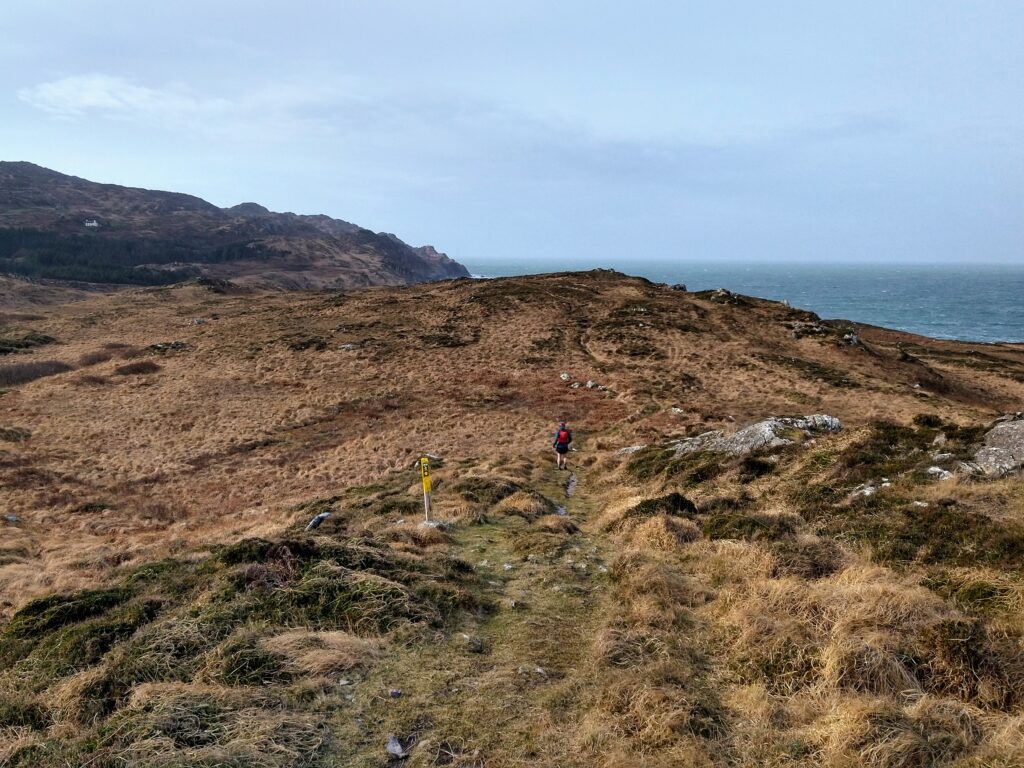 A friendly old lady who was just cleaning the local pub was willing to sell us some cans of coke, which was a lot better than nothing. She swept the floor (again) after me, all the while telling me stories about the shop owner, your one down the street, her husband, and men in general. That's where it started to get interesting and I would've loved to stay, but we had some more hours of running ahead of us. As we left Kilcrohane, another local came up to ask us where we were headed. It took him a while to wrap his head around the fact that we were doing the whole of Sheep's Head in one go, but then he was able to give us some helpful information about some changes in the route just after Durrus. 'It's well signposted,' he said, 'can't go wrong.'
The section from Kilcrohane to Durrus isn't the most scenic, but it does allow you to move a little quicker – especially in winter, when the grass and the ferns are still low. We arrived in Durrus without too much trouble, again looking forward to some extra food. I was convinced there was supposed to be a supermarket there, but it turned out to be a small village grocer. The most important thing was that this shop was still open, so this was a good opportunity to get some extra calories in before the final leg back to Bantry. It was just starting to get dark when we found the detour, which was indeed easy to follow and the distance seemed to be more or less the same as the original route. After this, we could start a steady jog towards our finish line for that day. Spending the last section of an ultra on roads is usually not the best thing for both legs and morale, but after so many hours of energy-sapping bog it was nice to have some solid ground underfoot.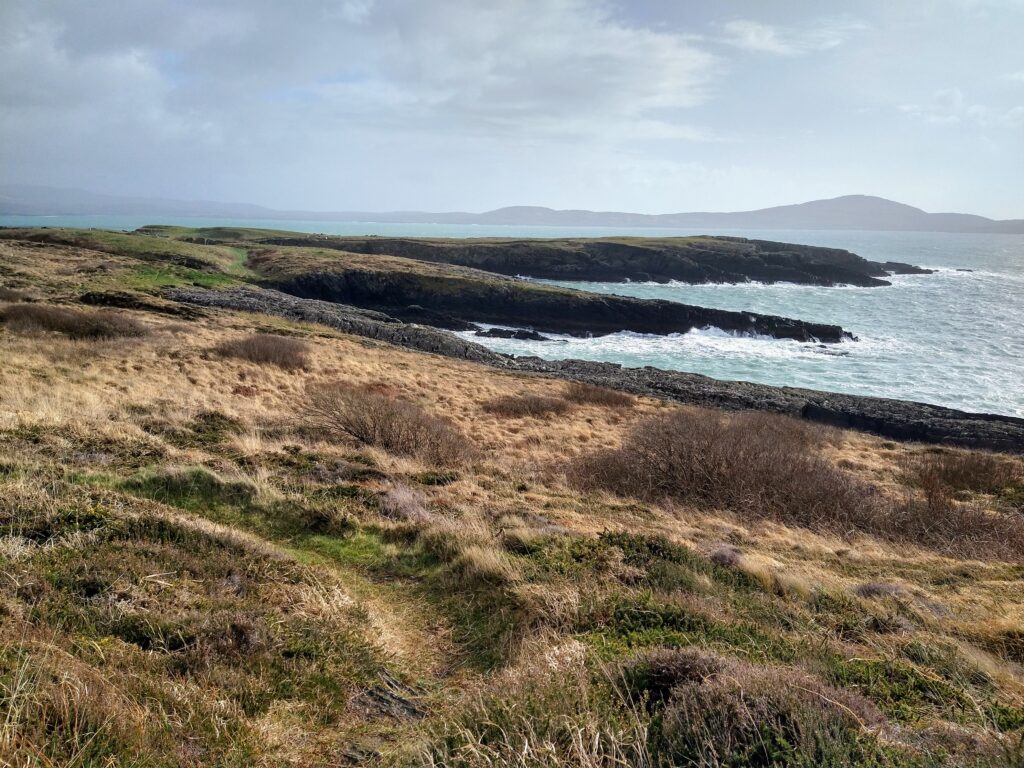 The final couple of kilometres back into town were the same as we'd done on our way out that morning. It was drier this time, but just as dark. The road also seemed a bit longer somehow. There was no real finish line, no crowd, no music, no prizes. As underwhelming as that may seem, it's one of the things that I love the most about this sport. You can just decide to set your alarm at crazy o'clock, choose your own start point and finish line, start running and see what the day will bring. There's something about arriving at a hotel covered in mud and sweat, where nobody knows or cares about what you've just done – but you know, and you care. You just added another adventure to your evergrowing list.
That's why I'll keep coming back to challenges like this; in a way, I like them more than races. Less pressure, more problem-solving and more freedom. That's exactly what I love about ultrarunning as a whole: you're never quite sure what's going to happen over the course of so many hours, but you do know that you're going to figure out a way to keep moving, to leave the low points behind you and to enjoy the time out in the hills where the rest of the world seems irrelevant for just a little while. That's worth the 3am alarm. Always.