You can have too much of a good thing. That is why, after a very busy 2022, I decided to do things differently in 2023. I didn't stop running, but I no longer felt the need to always have something big or competitive lined up. For months I didn't race at all and volunteered instead. I was able to go on even more random adventures, sometimes at only an hour's notice. The answer to the question 'why are you not racing?' was surprisingly simple: I just didn't really want to.
Long Day Out
I enjoyed my training through a pretty bleak winter in Kerry, just delighted with the fact that I could go out and do all these things. I knew that there was one big race on the horizon, though: the Beara Way Ultra. In a way I was lucky, because I knew what I was signing up for. I had done the Beara Way before, so I should (emphasis on should) know the route and be familiar with the terrain. Moreover, we would have more daylight and better ground conditions in May as opposed to when I did it in October, so in theory this one would be easier. In theory…
In the weeks leading up to the race, I wasn't nervous at all. I was just looking forward to a long weekend with friends. I made my checklists, bought too many emergency jellies (they would inevitably get eaten in the days after the race) and was also preparing for my summer travels. It was only when I saw lots of friendly, familiar faces at registration that it really hit me that this was a race. There was no turning back now. Dee, who would be crewing for me, arrived in Castletownbere and after talking her through my various bags of food and gear we decided to call it a night.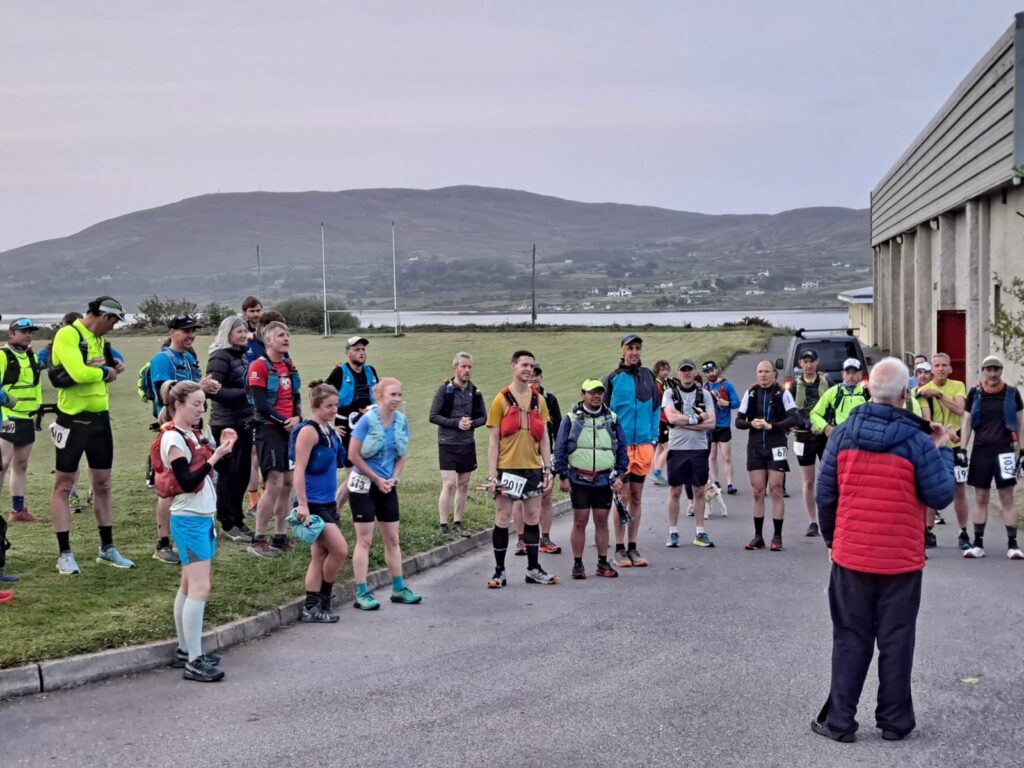 The Four Musketeers
At the start, I only had one goal in mind: to run my own race. There were a few people that, however nice they are, I did not want to run with during the first section from Castletownbere to Allihies. Stephen, Brian, and anyone else who was running at their pace; I would just let them take off. Whether or not I'd see them again didn't really matter. I needed to use my own two legs to cover 100 miles around the Beara peninsula and I needed to do that at my own pace. Thankfully they really were too fast for me going up the first hill, so I happily watched them disappear in the distance – Stephen, Brian, Adam and Rory, the four musketeers. It was a stunning morning, I was running by myself and I was looking forward to the day ahead. I met Shane from Fermoy and we had a brief chat on the last climb before Allihies, before he dropped me on the descent.
There was a great buzz in Allihies, with lots of familiar IMRA faces around. Dee had created the most amazing aid station buffet in the boot of her car. Since we were only 15 km into the race, it was a very quick crew stop and off I went on the loop towards Dursey. I could see Shane ahead of me. That was the least of my concerns, though. He seemed friendly enough – the horses and the cows on the trails, not so much. It took some convincing on my part, but eventually they let me through.
I passed Shane on one of the road sections before Dursey cable car. He was just having a quick chat with a local, so I was sure he'd catch up with me soon. It was there that I realised I should have taken a bit more food with me from Allihies. Luckily the small aid station at the halfway point of this section had Starmix. Powered by said Starmix, I soon caught up with Rory. I wasn't sure if passing him would be a good idea, he was one of the four musketeers after all. Only one way to find out though, so on I went.
On the way back to Allihies I bumped into Stephen, who had taken a wrong turn and was now back on track. I let him take off – again – and I could see him run towards… Brian and Adam. This was worrying me a bit. As I was climbing one of the 863 stiles before Allihies, they were consistently 3 or 4 stiles ahead of me. I felt like they should have a bigger gap at this stage, so this could be a good thing or a bad thing. At the second crew stop in Allihies (46 km in), I grabbed enough food this time and was reminded by Dee to just run my own race. The now three musketeers left Allihies a few minutes ahead of me, and I started plodding up the hill with my second peanut butter sandwich of the day.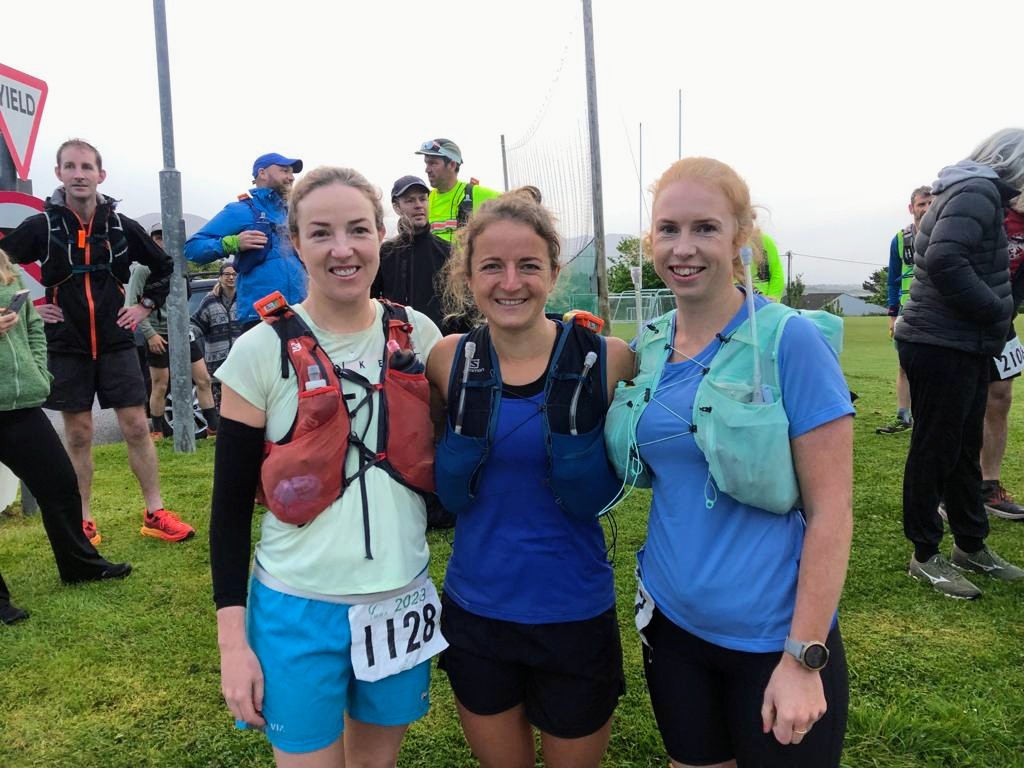 No Chats
It's a fairly short section to Eyeries with some good runnable bits, so it was nice to tick that one off fairly quickly. I ran through the town and back to the coast. As I was climbing one of the stiles I looked behind me and saw… Brian?! I was convinced he had just taken his time at the crew stop in Eyeries and would pass me again soon, so I didn't even give him a wave. Maybe we could share some miles, it would be nice to have some company. After a while, I realised the gap was getting bigger and bigger. Again, no chats. This was turning into a pretty quiet day out. I hoped he was ok.
Eyeries to Ardgroom is relatively flat and the ground was much drier this time of year, which meant I could actually run parts of it. It flew by. After Ardgroom (72 km in), the course gets hillier and the terrain gets more rugged. My feet were starting to swell up and they got more painful with every step. The combination of heat and wet feet wasn't ideal, to say the least. When I hit my foot hard against a rock on one of the descents, my yodeling skills were put to the test as well. I thought I knew this section well, but it seemed like two more hills had popped up since the last time I was here.
On one of those climbs I met Adam – only two musketeers left now. He was still moving well and had much more politeness left in him than me; when a hiker in front of us used a stile to do an extensive tick check, Adam waited patiently while I just yelled to make our presence known. (As it turned out, the hiker on the stile was a Dutchman – I'm sure he's had it way worse.) I wasn't planning on passing Adam, but it happened anyway. It was only a very short chat.
When I finally reached Lauragh, I knew I'd have to dig deep from here on. Running the Beara Way from Castletownbere in this direction means that the course just keeps getting harder and harder. I was over halfway in terms of distance (86 km in), but some of the toughest terrain and the longest climbs were still to come. The good news was I was well and truly ahead of schedule now. I had been planning on picking up my head torch in Lauragh because my expectation was I'd only have a few hours of daylight left for the next section, but it was starting to look like I'd be able to reach Glengarriff before dark. I still grabbed a small torch in case anything would go wrong, and started climbing again – armed with a veggie roll that Dee had found somewhere.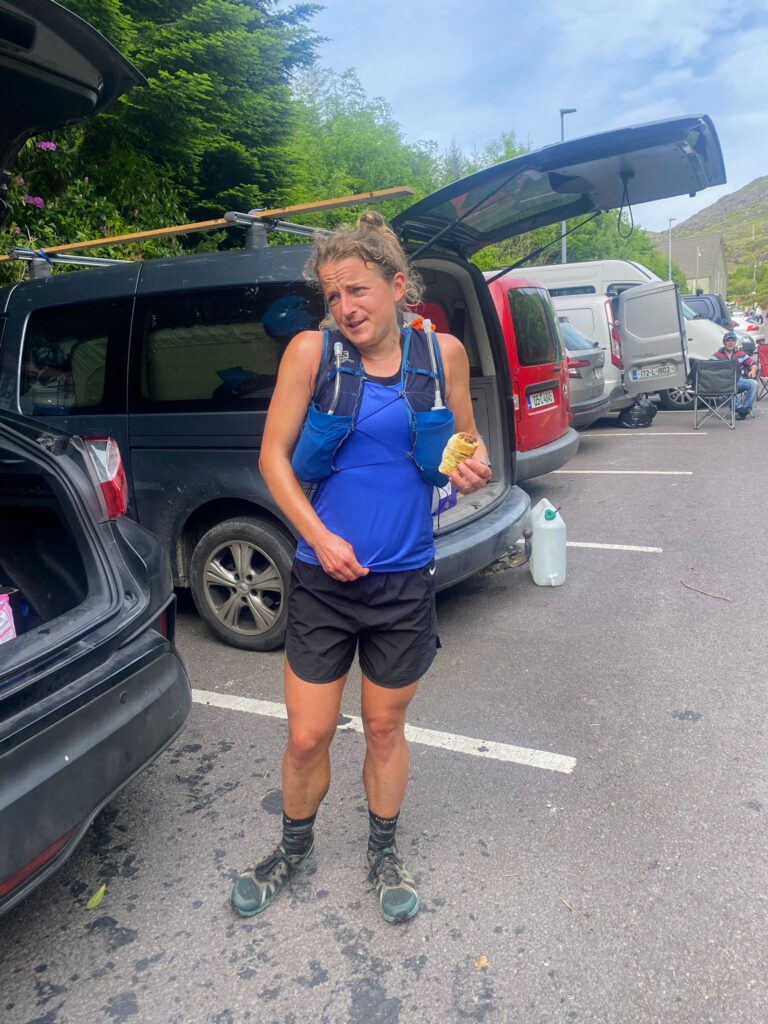 True Heroes
My stomach was doing great, but my feet were killing me and my brain started telling me to stop. It is a long trek to Glengarriff (33 km). Thankfully there were some small aid stations in between where I met some more lovely IMRA people, who I knew would be out there for hours and hours waiting for smelly, sweaty, moaning messes like me. They are the true heroes. Máire was hiking up one of the hills and gave me some of her endless positivity (I gave her my fakest smile in return), Martin produced a mini apple tart out of nowhere, while Derry and Trish assured me that Stephen had come through their aid station with the exact same mindset as me: he was still moving, but he just wanted to be done.
I spent the last 10 km before Glengarriff wondering whether or not I should use the option of having a support runner for the last sections. Even though it was allowed and I knew many people would do it, it still felt like cheating to me. I had been running on my own all day though, bar the five minutes that I had shared with Shane that morning. My brain was getting louder and louder, and although I knew I'd get to the finish line one way or another, having someone there would definitely help to silence the negative voices. I decided to still run Glengarriff to Adrigole on my own, and save my support runner for the very last section.
Glengarriff (119 km in) was an absolute midge-fest, but I got there before dark and was delighted to meet Eva there who gave me some much needed encouragement. I asked Dee if she really wouldn't mind running the last section with me, but she seemed like she would have changed into her running gear there and then if I had asked her to. I tried not to spend too much time in Glengarriff and left with my head torch and my poles – I had saved them for the last bit because I knew those would be the toughest sections, even on fresh legs.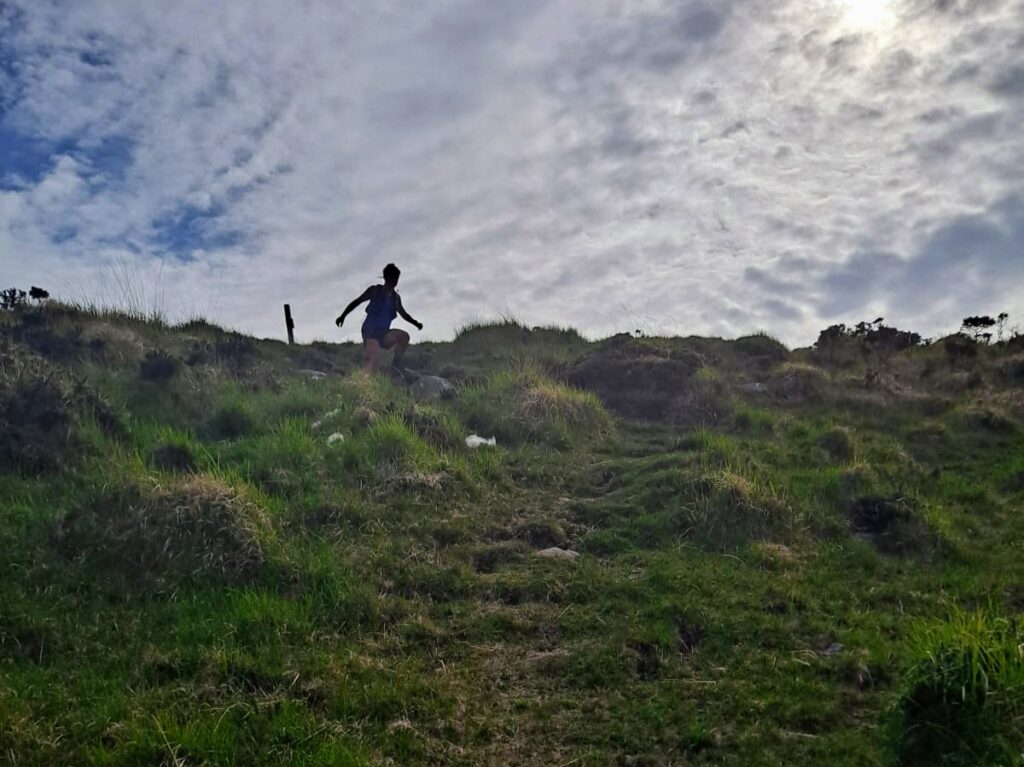 Just A *** Hill
As I started climbing Sugarloaf, I could see Stephen's light way on top, which meant he had at least a 30 minute lead – probably more, with the pace I was going at that stage. I could see two lights behind me as well, but I didn't know who they were. It could be Brian and Adam, or either one of them with their pacer. All I knew was I didn't even care if they'd pass me, as long as I could get myself to the top of that hill. I tried to keep my grunts and expletives to a minimum because I felt like the other two were on my heels, and they'd probably think I was being overly dramatic. 'It's just a hill,' I kept telling myself. 'Just a *** hill.' I somehow made it to the top, struggled a lot with the descent (hi feet) and made it to Adrigole where Dee was all set to join me for the last section. 23 km to go.
I'm not sure how to describe those last 23 km. Initially I got a huge boost out of having some company and getting out of my own head, but soon I got pretty frustrated with navigation. I had done this section before, several times, in daylight and in the dark, but still I couldn't see where we were going and it was hard to spot the trail. On several occasions we were just standing in the middle of a pitch-dark bog, shining around with our lights to hopefully spot one of those elusive yellow men. (Who knew it could be so hard to tell the difference between sheep's eyes and a signpost?) We didn't get lost, it just took a lot of mental energy to stay on course and I kept trying to convince myself that we were still making progress, even though it was slow. Thankfully Dee kept giving me all the food, like she'd been doing all day, only this time I somehow couldn't stop eating. I wouldn't be able to tell you what we talked about during the dark hours up on those hills, but I do know that there were some interesting topics that you wouldn't expect to be discussing at the end of a 100 mile race. Thankfully we all know that what happens on the hill, stays on the hill.
99.9 Miles
As we finally reached the last road section towards the finish in Castletownbere, I realised that I would get my sub 24 hour finish, but I probably wouldn't get 160 km on my watch – I'd be 0.3 km short. 'Once I get to the finish line, I'm done,' is what I told Dee. The pain in my feet had reached a point where I felt like I was losing it, and all I wanted was to just take off my shoes. Who cares if it's 100 miles or 99.9 miles, right?
It wouldn't be an IMRA race if there wasn't an uphill finish. Dee somehow convinced me to run up the last steps towards the finish line, which is also where I realised that I only needed 0.1 km to get the full 160. I knew nobody would care, but I did – which is why I ran a short 'victory lap' until my watch told me I'd actually covered 100 miles.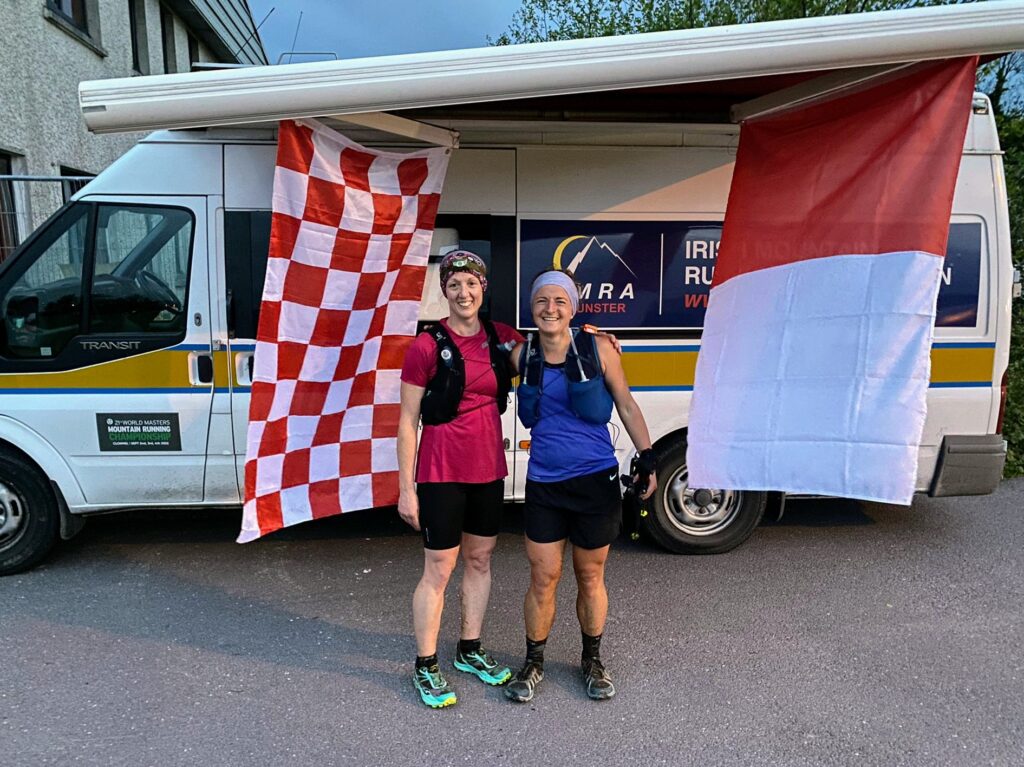 I can't describe the feeling of relief when I could finally take off my shoes and socks. It was like I'd been telling myself all day and night: there wasn't much wrong with my feet, it was just the swelling from the heat that had made them incredibly sore. Robbie was quick to point out to me that they looked great – something I didn't quite agree with at first, but after hearing some stories about others, it all made sense.
Stephen was already gone, he had finished over an hour ahead of me. I hung around to watch Adam come in. The lights behind me had been him and his pacer – it turned out I wasn't the only one who had been struggling on Sugarloaf (and beyond). Shane finished 4th, an amazing achievement for his first 100 mile race. One thing worth noting is that even though the race had a 37% DNF rate, all women who started the race finished it: three out of three. Elaine and Shauna are both superstars, and I couldn't be more proud of all of us.
We all had the absolute best time over the weekend. Runners, crew, volunteers, locals – the Beara Way Ultra showed me once again what a great community we have and what true friendship looks like. You can have too much of a good thing, but you can never have too much of that.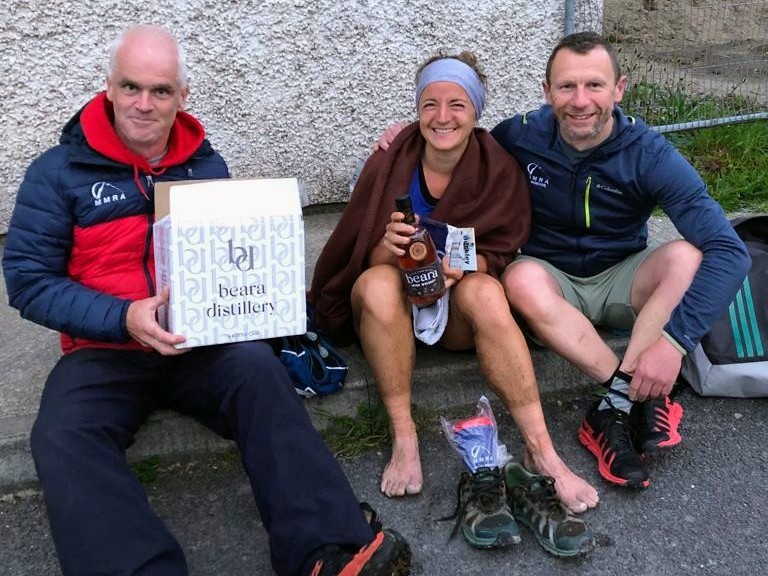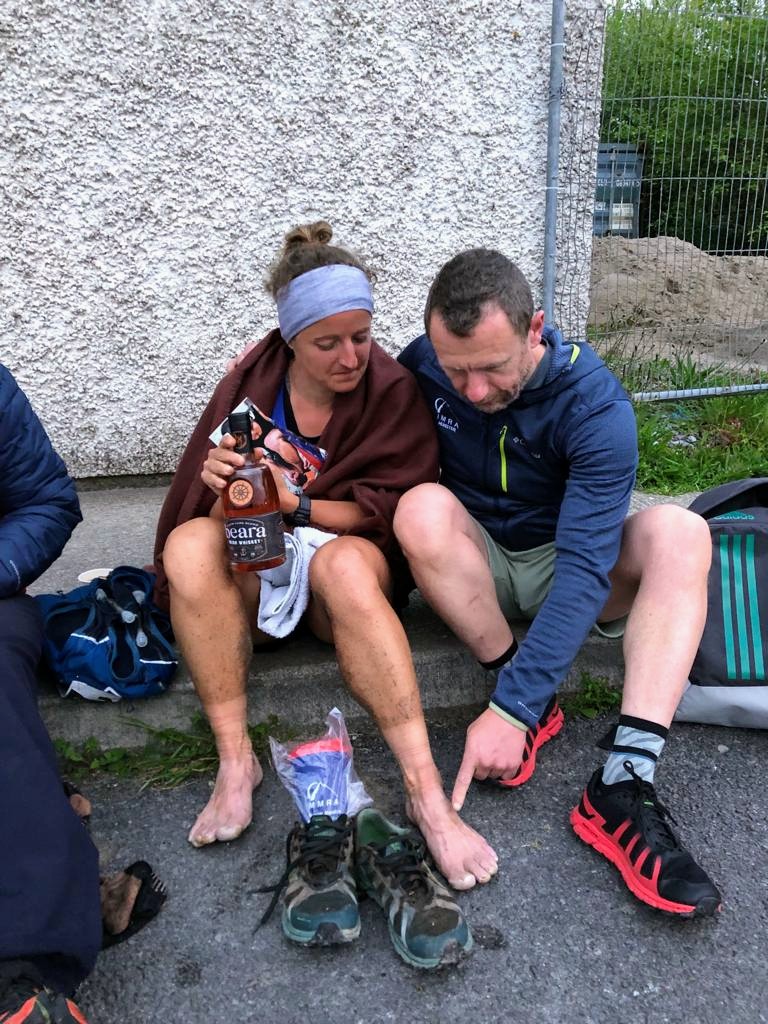 ---
Interested in working towards your own goals and could use some help? Check out my coaching page and feel free to email/DM me.