Sunday 16th October, 4 am. It takes me a couple of minutes to figure out where I am and why my body is feeling this way. I am hungry but I do not want to think about food, I am sweating but I feel like I need more blankets, I am exhausted but I want to move. I can't, though. My legs are throbbing and my mind is doing a good job of convincing me that we have done enough moving for now.
'Don't worry, we get hikers like you all the time,' was what the lady at the B&B said when I showed up at her doorstep covered in mud and smelling like… Well, like I had just been out there for over 24 hours. As always, I had been relatively clear-headed while running, but as soon as I had stopped moving my brain had stopped functioning as well. My friends started asking me incredibly complicated questions, like 'how do you feel?', 'where is your B&B?' and 'do you want pizza?' It was like being back in school, looking at math problems and not having a clue where to start. Carol, who had been an absolute lifesaver throughout the day and night, did what is arguably even more important than helping someone out during a 100 mile run – she made sure that I had everything I needed afterwards. She also answered that last question for me and showed up with a pizza.
That is why, when I finally realised where I was, I was able to reach for the half-eaten pizza on my nightstand and enjoy one of the best meals of my life.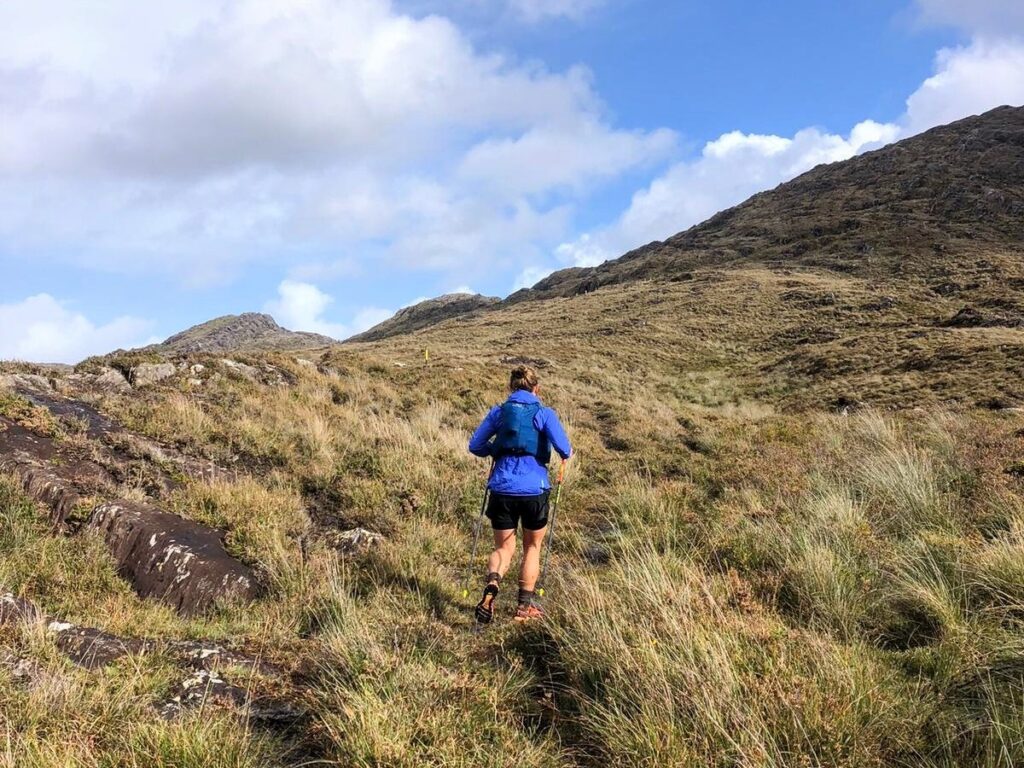 Ironically, that cold pizza at 4 am is one of the moments that stands out for me when I think back to my Beara Way weekend. I have been trying to write a report with sections and splits, with what went wrong and what went well, but I felt like it did not do the adventure any justice. The pizza did. Maybe because it was cold and a bit unusual, just like that run. But mostly because it was not what I had planned for but exactly what I needed, just like that run.
I will not bore you with a description of the muck, the horizontal rain and some of the hard-to-spot trails (trust me, I tried writing that). If you want to know all the details about every single section, join me for a jog sometime and I will give you the full rundown. Here are some of the highlights, though.
What
The Beara Way has a few variations. I ran a 170 km loop (not including Bere Island and Dursey Island), starting and finishing in Kenmare. I went clockwise, so my crew stops were Glengarriff, Adrigole, Castletownbere, Allihies (2x), Eyeries, Ardgroom and Lauragh.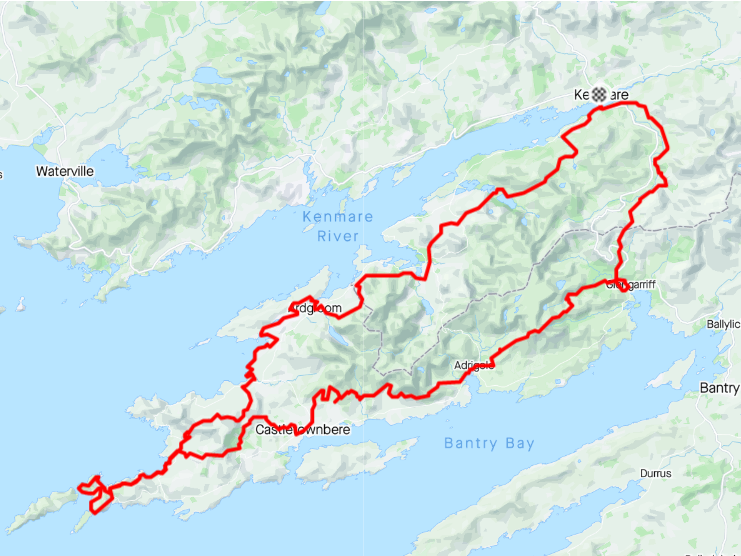 Why
It is the number one question: why run this far when it isn't even a race? Some might say it is not ideal to run 170 km in the middle of October. You don't have as much daylight, the weather can make things slightly more challenging and you might be slower because of the conditions underfoot. But when I didn't get to do my 100 mile race in September, I knew right away that I was going to do the Beara Way instead. After a failed attempt earlier in the year and a good summer of mountain training, I was excited to give it another go. Why? Because it is there. Because my head and my legs were ready for a long adventure. Because I wanted to have a second 100 mile experience this year. And because I knew I could probably have some people join me for sections, which would make for some cool memories.
When
The great thing about a non-race ultra is that you can choose your own start time. Since the night is my least favourite part, I decided to get that out of the way first (just like with the Ancient Warriors Trail). I locked my car and started my watch on Friday 14th October at 5 pm. It was just me, I would meet the others throughout the night and the next day.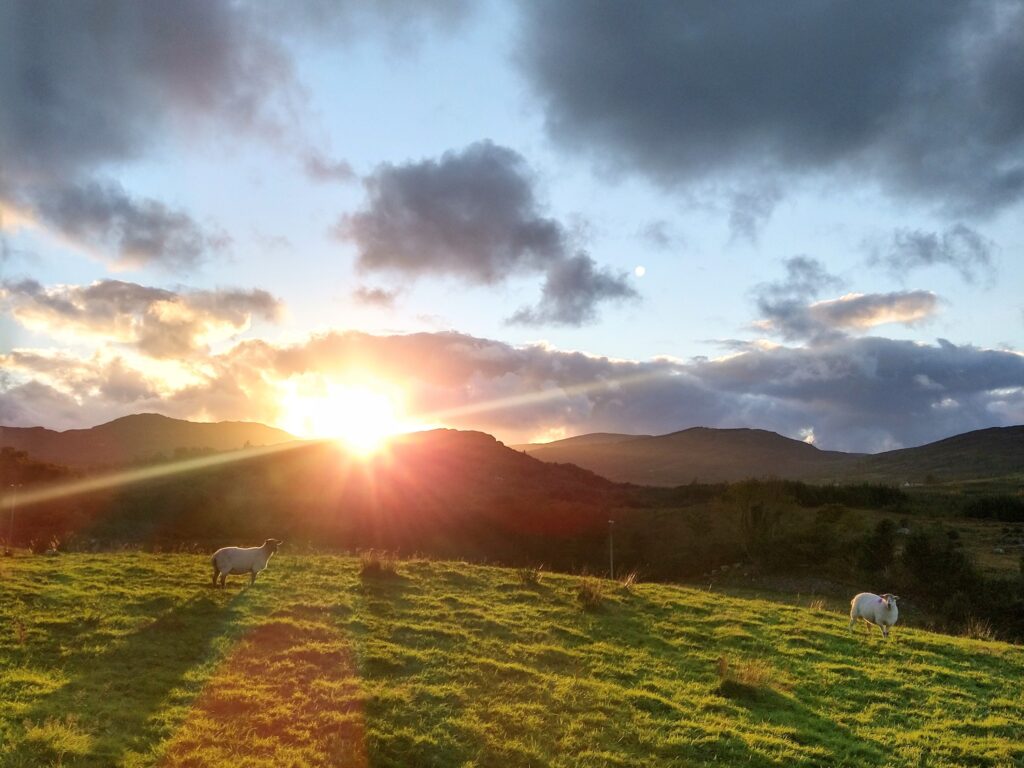 Who
I was very lucky to have some incredible people joining me and helping out.
Brian ran a casual Friday night marathon from Glengarriff to Castletownbere. He was treated to a lovely thunderstorm, some swamps and a wrong turn to add a little bit of extra distance. He probably hated me when I told him I wanted to turn around and backtrack to where we had missed an arrow, but he didn't say it out loud. 1000 bonus points for insisting I borrow his spare set of poles, after mine refused to unfold (I hope Leki is reading this).
It is an amazing feeling to see a light coming towards you at 3 am, and knowing that you are not imagining things. Kristen got up in the middle of a night to run with me from Allihies, around the Garnish loop, back to Allihies and on to her hometown, Eyeries. It was her longest run to date, but she made it look easy. She also brought the best jellies and an incredibly positive mindset. I had never run with her before, but she made the dark hours fly by.
Coming into Eyeries at around 9:30 am, I felt surprisingly good – not only because Kristen gave me the rest of her jellies, but also because both Carol and Eva were there. Eva would run the final sections with me from Eyeries back to Kenmare. It was lovely to chat with her for the first hour, but things got quieter and quieter after that. Just having her there and seeing her footsteps in the mud made all the difference, though. Eva is one of the strongest women I know; seeing her in front of me reminded me that it could be done.
Thankfully my one-woman crew Carol could take a bit of a break during the night while I used Kristen's car as an aid station, but other than that she was there at all times. We share a pretty no-nonsense approach to things, which meant we could be really efficient without forgetting anything. The extra stuff Carol got me (hello, sandwiches and focaccia) was exactly what I needed, and knowing that she would be there meant I never had to worry about anything. As I mentioned before, her help afterwards was maybe even more important – I could not have done this without her.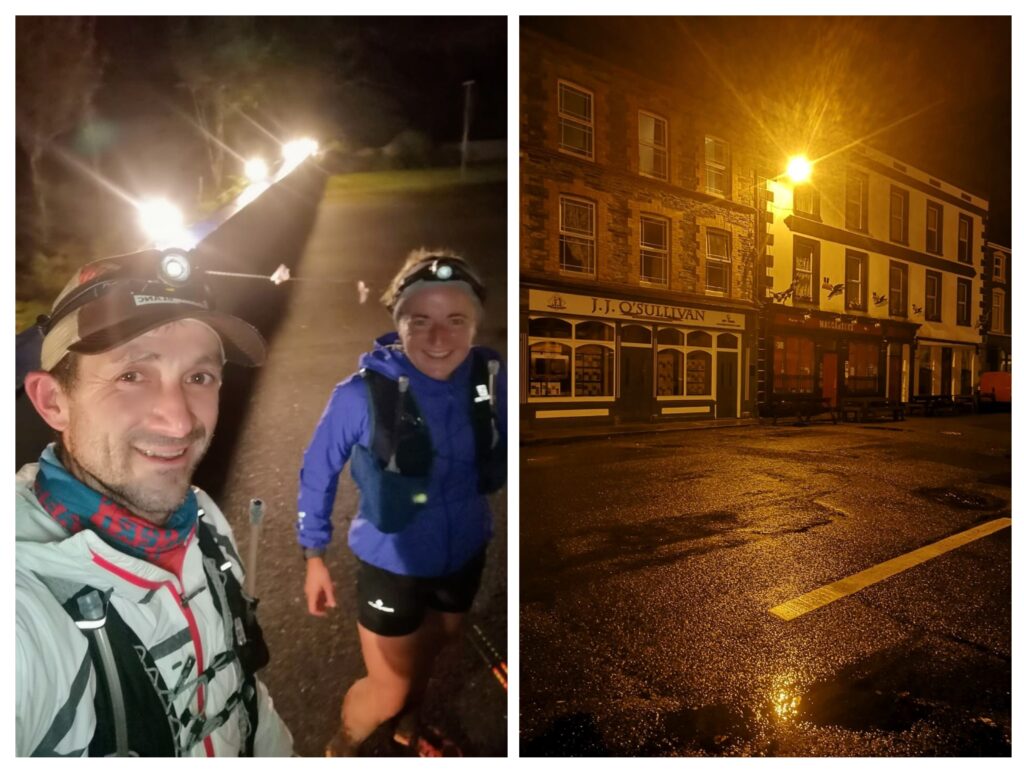 Highest point(s)
The actual highest point of the route would have been in between Glengarriff and Adrigole, as you climb up to the pass north of Sugarloaf Mountain. At that stage it was too early to feel particularly good or bad, though. I remember feeling great at the crew stop in Castletownbere when I could finally eat the peanut butter sandwich that I had been craving, but I also loved the moment when I could see Kristen's light coming towards me late at night, in the middle of nowhere. Another high point was arriving at Eyeries Strand. Picture a deserted beach on a quiet October morning, a woman devouring yet another peanut butter sandwich, and three other women just being out there to support each other. It was really encouraging and uplifting for me to know that they were there and that the night was behind me.
Lowest point
Every Kerry Way Ultra finisher remembers the checkpoint at Templenoe. During my Beara Way run, Ardgroom was my Templenoe. With 'just' 40 km to go, I knew I was going to make it back to Kenmare – I just couldn't see how. The section from Eyeries to Ardgroom should have been relatively easy, but I felt like it had taken me ages. I started to worry about Carol and Eva, thinking I was taking up too much of their time. They both didn't seem too concerned, though. Carol offered me a relish sandwich that she bought and that I didn't even knew I wanted, while Eva told me she would be happy to just walk to Kenmare if necessary. I had a one-minute pity party and then decided to eat the sandwich, not sit down and get moving again. There was nothing wrong with me, I was just getting tired after spending nearly 20 hours on energy-sapping terrain.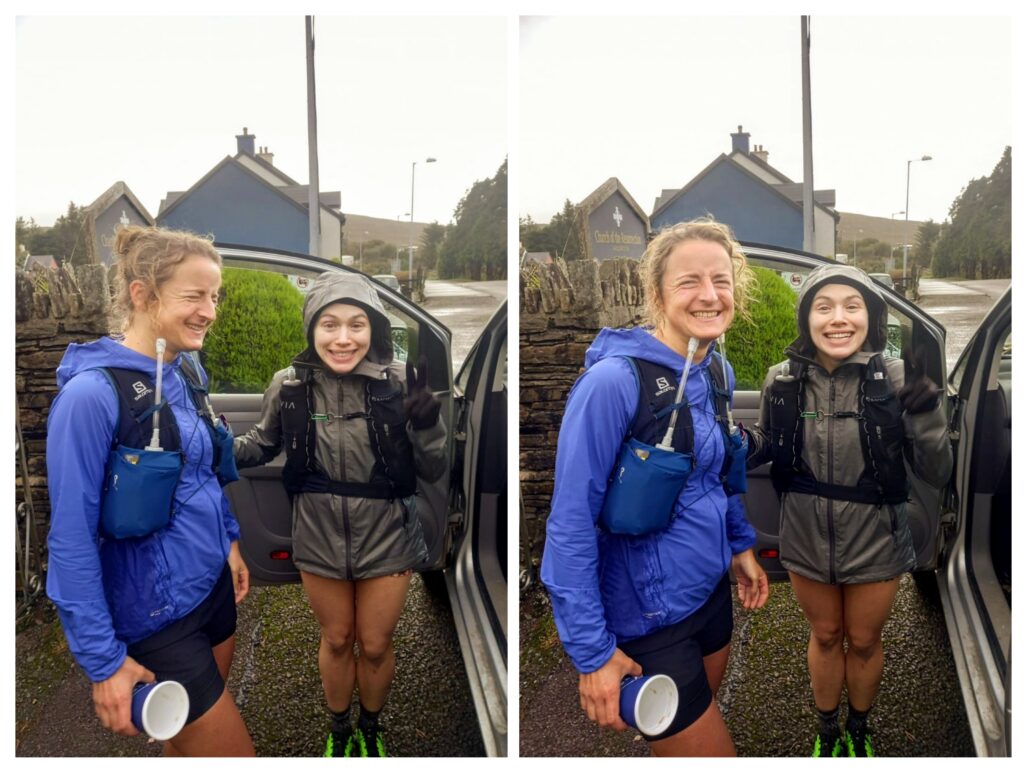 Food
You may have noticed that I mentioned some sandwiches here and there. I like to drink water and eat my calories and electrolytes, so I will usually just eat whatever feels good. This time it was a mix of protein balls, gels, flapjacks, peanut butter sandwiches, the relish sandwich and focaccia Carol got me, some of my own jellies and the jellies I stole from Kristen (hers tasted much better). To top it all off I had a cup of lovely flat coke at most of the crew stops. I lost the will to eat after Ardgroom and just kept popping gels for the rest of the run. Even though it felt like they were floating around in my stomach and not doing much, they did get me to the finish line.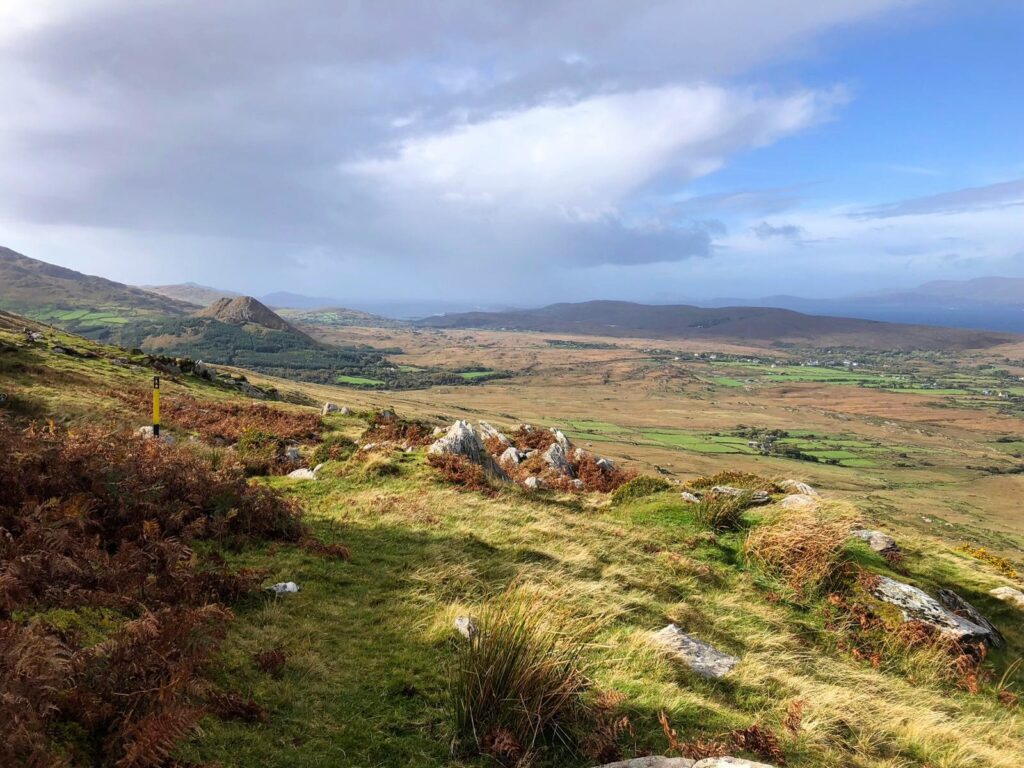 Finish
I had hoped to be back before sunset, but it was dark by the time Eva and I reached Kenmare again. We could have stopped to grab our head torches, but we were so close to being done that we just kept going. We met the others in the town centre at 7:20 pm. It had taken me 26 hours and 20 minutes to run the 170 km around the Beara peninsula, climbing about 6400 m and spending large parts of the descents on my butt and saying words I will not repeat here. It is one of the hardest things I have done so far, but I enjoyed the majority of it – Beara is stunning and you can get some amazing views on a nice day (or in this instance: in between showers).
I am grateful that I still got the 100 mile adventure that I was craving. Running the Beara Way taught me a few more things about organising your own adventure, surrounding yourself with the right people and the importance of a good waterproof jacket (I brought a lot of extra gear that I didn't need). Most of all, though, it taught me how delicious a cold pizza can be at 4 am in the morning. Highly recommended.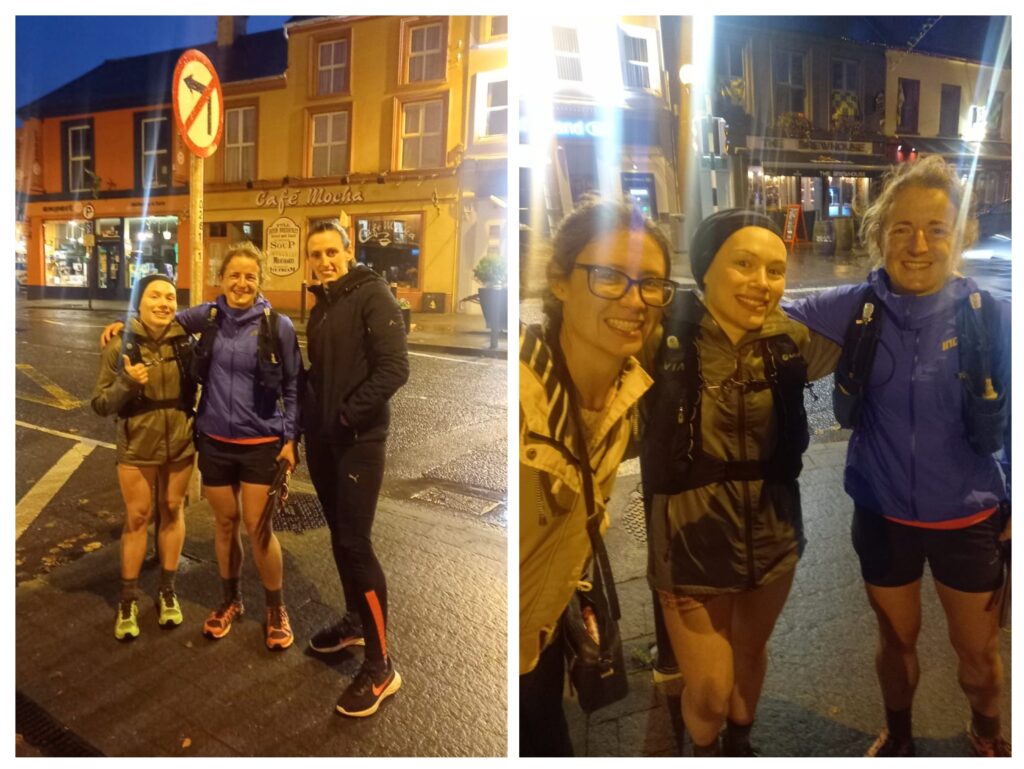 ---
Interested in working towards your own goals and could use some help? Check out my coaching page and feel free to email/DM me.