Ever since the first edition of Ecotrail Wicklow a couple of years ago, it had been on my list of races that I wanted to do at some stage. The timing just never really worked, because I would usually do a longer race in late August or early September.
This year, though, I found myself race-ready but with an incredibly empty calendar after my Slovenia experience. The plan had been to take some weeks off running in September and October, but that seemed unnecessary now – I had done the tapering and the eating, but the racing part never happened. That is why I felt very lucky to be on the start line of the Ecotrail Wicklow 80 km race on September 24th, only a few days after travelling back to Ireland. From looking at the maps and talking to some people who had done the race in previous years, I knew the trails should be beautiful and that it could be a fast course.
Even though I was looking forward to running a good race, that was only part of my reason for being there. As I told one of my friends beforehand, I was hoping to just come away from this race with a positive experience and a pretty boring story: 'Running went well for a while, hit a low point somewhere halfway, made it to the finish line, chatted with some people, pretty tired now.'
I was just looking for a nice, normal race experience. But… is any ultra ever normal?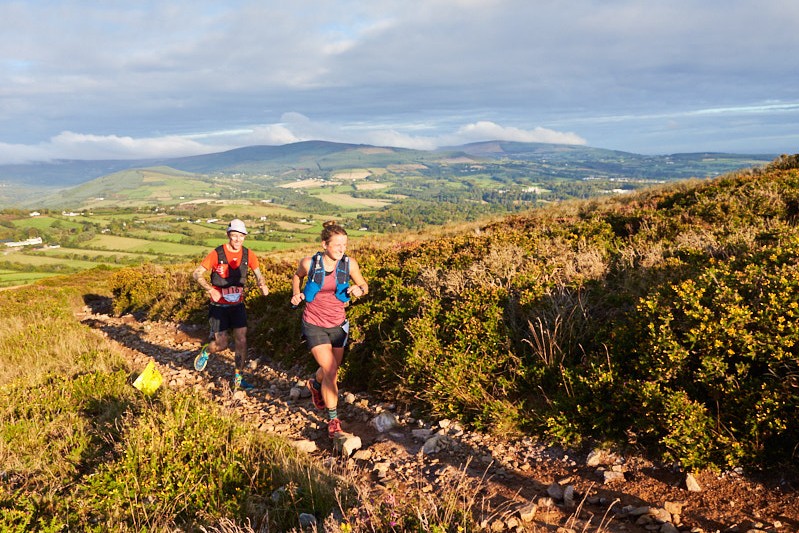 It was a stunning morning in Wicklow, there was a great buzz around the start/finish area in Bray and I met some friendly faces at the start line. Judging by the amount of stories I heard about injuries and DNFs, I wasn't the only one who was using Ecotrail as a redemption race. It made for a very positive atmosphere. Everybody was just there to have a good time, to end the season on a high.
For most of the day, the race went exactly as I had hoped. I was enjoying the views, was moving well and had some great chats with other runners. There were a few spots on the course that I had seen before, but most of it was new to me. That actually made it more enjoyable, even though I am usually a big fan of doing recces beforehand. The course was so well-marked that I never had to worry about navigation, and the little surprises here and there made for some nice distractions.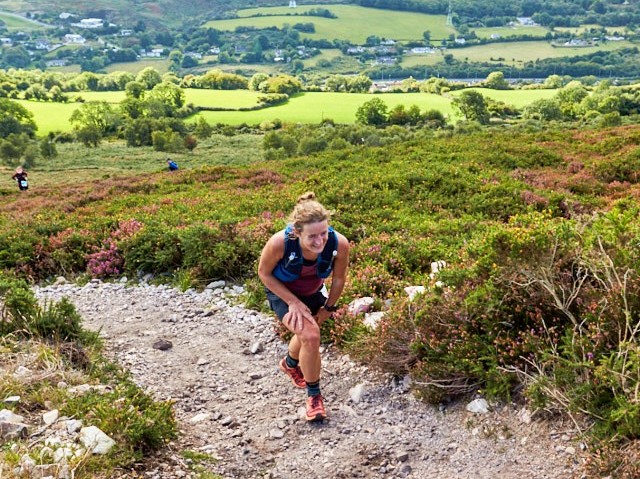 We had a good competition going for 4th, 5th and 6th throughout the day, with Ned, Trevor and me constantly passing each other on different parts of the course. Ned was running his first 50 miler that day; Trevor and me have a bit of a history after a fairly nerve wracking finish at the Waterville Trailrunning Festival, where we both ended up on the podium. On the last climb of the day, up to Bray Head for the second time, I decided to just keep jogging and hopefully keep the two guys behind me for the final couple of kilometres until the finish line. It seemed to work. 'Great,' I thought. 'This is just what I needed.' I was already starting to think about my finish beer and pizza.
But then, right before I reached the top of Bray Head, I saw a runner who looked familiar. I was pretty sure I was wrong. That was impossible. It couldn't be him. Or was it? It was. Dave Barry, 3rd overall at that stage, reached the top of the final climb only a few seconds ahead of me. Unfortunately for me, he decided to look over his shoulder just before starting the descent. I am not sure how to describe the moments that followed, but I don't think I would use the word 'normal'. Nice? Absolutely.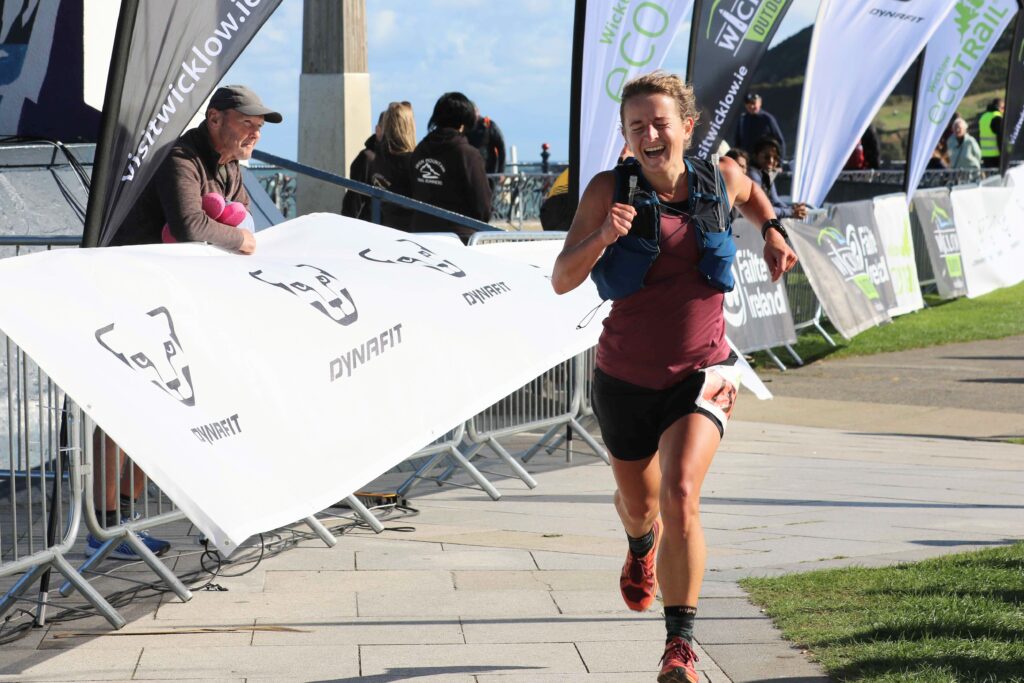 Like two kids chasing the last ice cream van on earth, both Dave and I threw ourselves down the descent towards the promenade while trying not to trip over any tree roots or tourists. There was no stopping Dave. He opened up a slight gap on the promenade and finished very well deserved 3rd overall, while I was delighted to win the women's race and come in 4th overall. Eoin Flynn, the man on the microphone that day, welcomed us back with great enthusiasm and thankfully agreed to ask Dave a few questions first.
I really enjoyed seeing so many people from all the different distances finish with a huge smile on their face that afternoon, after having their own adventure out there on the trails. Sharing a beer afterwards was a lovely way to end a day that had exceeded all expectations. I never would have thought that this race would end in a sprint finish, but Ecotrail Wicklow (and Dave…) definitely provided me with the opportunity to just leave it all out there.
Who needs normal anyway, right?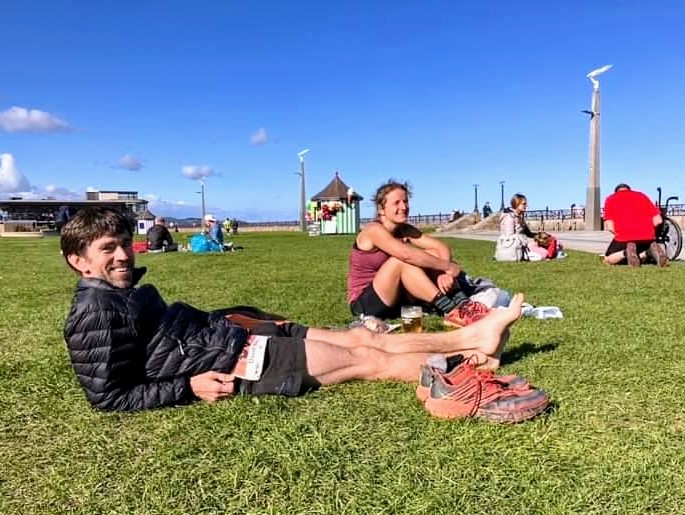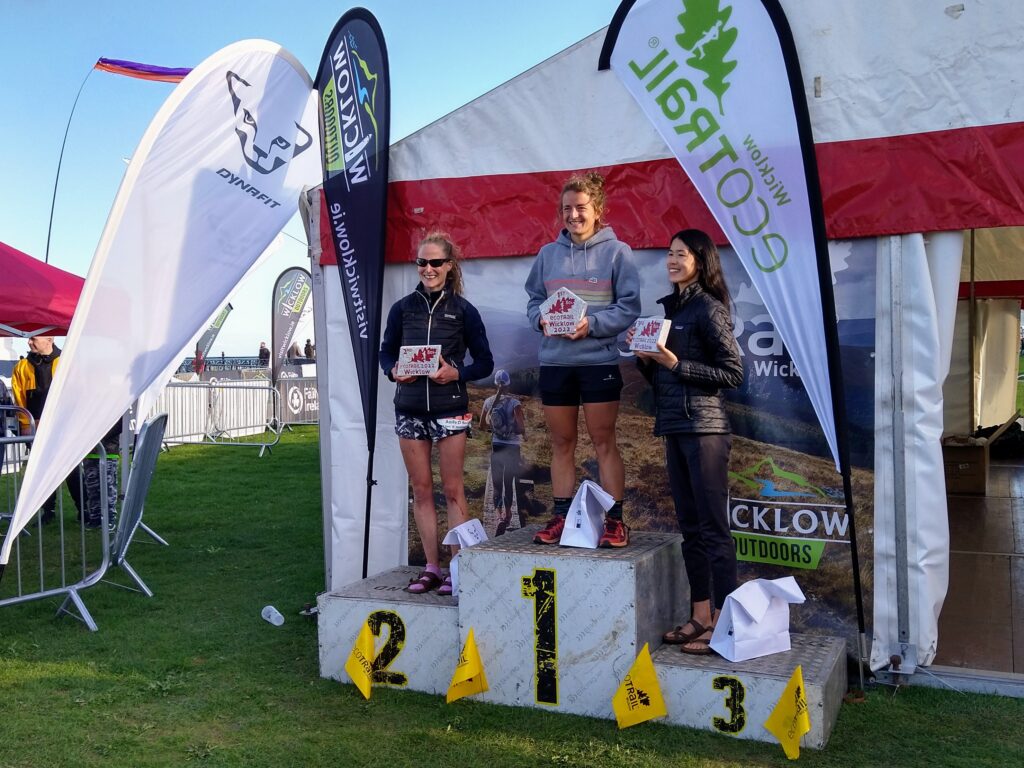 ---
Interested in working towards your own goals and could use some help? Check out my coaching page and feel free to email/DM me.